---
At Truck Works, We Specialize in Diesel and Gasoline Diagnosis and Bumper to Bumper Repairs
---
Conveniently located in Banning, CA, just minutes from Ontario, San Bernardino, Redlands, Riverside, Palm Springs, Hemet, and surrounding areas. We specialize in diesel powered vehicles.
---
We are also highly qualified to work on gasoline powered trucks and SUV's. We have the facility and experience to service and maintain your fleet or personal vehicles. We also have the diagnostic equipment needed to work on today's modern computerized vehicles.



Contact Us Today to Schedule an Appointment
---
We Are a Quality Shop Committed to Producing Quality Work
---
---
Whether you have a fleet of medium duty trucks or your own personal vehicle, you can count on Truck Works to properly maintain your vehicle(s) and keep them running efficiently.
---
We are far more interested in keeping your vehicles from breaking down then fixing broken down vehicles because we know you depend on them.
---
We want you to fully understand what service or repairs need to be done and to feel confident that we are giving you the best service possible.
---
Being without a vehicle can interrupt your schedule and cause undue stress. If you need an oil change or something more, you can count on us to do the job right the first time.
---
We Don't Just Repair Vehicles, We Build Relationships
Our shop began with quality repairs and honest services which created honorable business relationships. Truck Works has the most knowledgeable and efficient mechanics, service advisors, parts vendors and suppliers. We have proper tools and equipment, all in good working order, to perform the job in a timely manner. We have more than one source of up-to-date accurate repair information and our staff constantly attends the best training available. The highest quality parts are used at all times.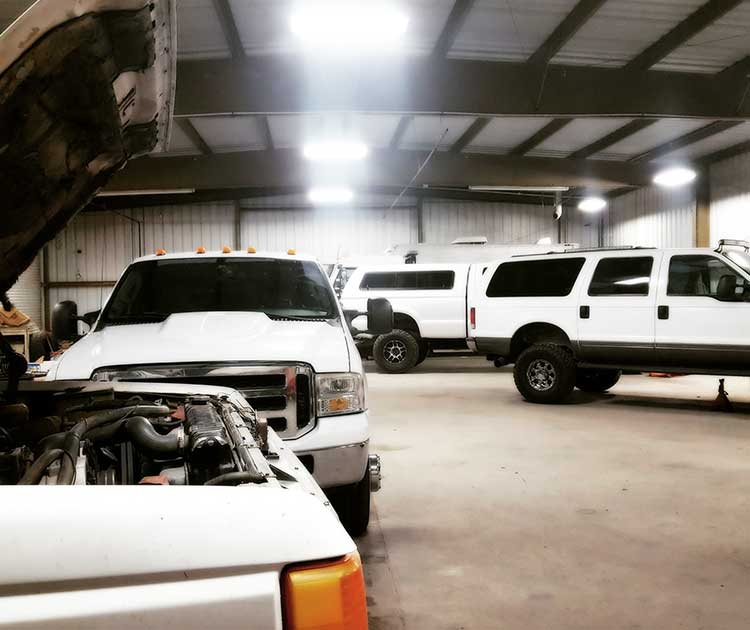 ---
It makes no difference if you own a single work vehicle or a fleet of several trucks; you cannot afford to have broken down vehicles. If the units are not running, you're not making money.
At Truck Works, our highly skilled and thorough mechanics can help prevent the brake down of your vehicles, therefore, saving you Money.
---
A properly maintained vehicle is much more cost effective than one that is only brought to the shop when repairs are needed.
When you neglect your vehicle, you're not only paying the price of preventable repairs, you are also paying additional overhead with your money, time, unnecessary stress and inconvenience.
---
Keeping Your Diesel Running at Its Peak
To properly maintain and repair a Diesel Powered Vehicle, specialized knowledge, tools and equipment are needed. At Truck Works we have the training, tools, and equipment to properly maintain and accurately repair these vehicles.
We Know You'll Be Impressed Not Only With Our Level of Vehicle Service, but Also With Our Staff and Facilities As Well
We Want Your Business and Are Willing to Earn It